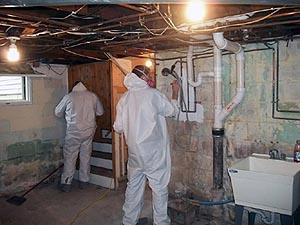 What is Mold Remediation?
Mold remediation, also known as mold removal, is the process by which a certified professional performs the removal and/or cleanup of mold from an indoor environment. "The most effective remediation process is not just to perform mold cleanup, but also to prevent it from happening again." The moisture problem has to be fixed prior to this process beginning.
When these levels become abnormally high as determined by indoor air quality testing or a mold inspection, remediation is recommended to be carried out by a professional remediation company. Your health is our number one concern. That's why we have invested in the best, state-of-the-art testing and remediation equipment to accurately identify and efficiently remove toxic mold from residential homes and commercial businesses.
Our mold remediation's includes:
    -Investigate sources of moisture and offer solutions
    -Remove all damaged materials
   -HEPA Vacuum all affected surfaces
   -Treat surfaces with an antimicrobial if necessary to kill any remaining mold growth
   -If necessary, apply encapsulation to further prevent regrowth
    -Coordinate with other licensed contractor to perform any necessary other repairs
Our contractors are fully licensed, insured, and trained in the field of mold abatement and improving your indoor air quality. We take total responsibility for the project from start to finish if the client requests. All of our findings are thoroughly documented and are kept confidential.
It is estimated that about 80% of modern life is lived indoors. Indoor air quality and indoor air pollution is just as important an issue for home inspectors today as electrical or structural issues for electricians.While electrical and structural problems are certainly a safety issue, having toxic mold present in a house structure can quickly impair the health of those that live there. And for those with weakened immune systems, toxic mold can be fatal.
Our method of removing mold is the most effective and non-toxic approach available today. As opposed to simply spraying a biocide, dry ice blasting removes 99.9% of the mold spores from the infected area on contact. Then we treat the surface with a nontoxic biocide agent to prevent regrowth.
You're likely struggling right now, and might you need a helping hand to get you through it all. All you have to do is call us today at (954) 531-6476, and our qualified team of certified mold remediation experts will take care of your mold problem.
The goal of remediation is to remove or clean mold-damaged materials using work practices that protect occupants by controlling the dispersion of mold from the work area.